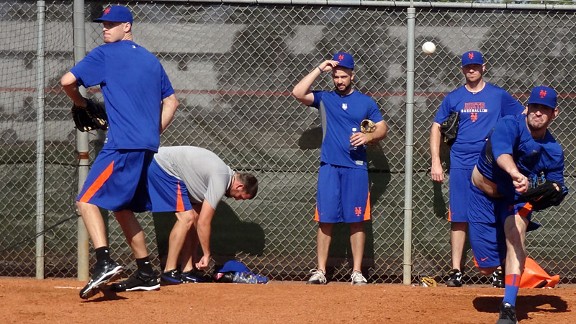 Mets News and Notes:
Zack Wheeler
hopes to learn from Matt Harvey this spring.
"We talked a little bit this offseason," Wheeler said. "I asked him to help me out this spring. He was more than willing to just let me tag along and show me the ropes a little bit, because he was sort of in the same situation last year that I am this year.
"It's baseball," Wheeler continued, outside the minor league clubhouse. "I'm sure it's pretty much the same over there as it is over here. It's all about learning and trying to get better."
Jonathan Niese
has reported early to Spring Training....
Left-handed reliever
Daniel Herrera
, who made 16 appearances for the Mets in 2011, expects to be ready to pitch in games in May.
The 28-year-old Herrera, an early arrival to Port St. Lucie, is about to step on a mound for the first time since undergoing Tommy John surgery last May.
He will not be in major league camp.
Herrera was not a free agent this past offseason. He remained under the Mets' control after making three early season relief appearances for Triple-A Buffalo last year.
Terry Collins
in recent days has not backed Sandy Alderson's comments about Frank Francisco not having a firm hold on the closer's job.
Said Collins: "I told him the same thing yesterday. I said, 'You're the guy. We haven't signed another close, per se. Bobby Parnell is here. I heard [Brandon] Lyon is going to have a physical. [Scott] Atchison is here. We've got candidates. But you're the guy. But we've got to get you ready. And if you're not ready, I've got to find somebody else.'
"And that's kind of what Sandy is saying. This guy, with what's happened last year, with his elbow issues, he's got to go out and earn a job. If he's healthy, he will earn the job, in my opinion."
Zach Lutz's
transition to outfielder became more official Thursday with outfield coach Tom Goodwin now at the Mets' spring-training complex.