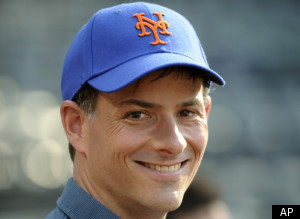 According to the
Daily news
, Potential savior of the New York Mets David Einhorn is out as a minority investor in the team.
According to reports , a source familiar with the negotiations for Einhorn to invest $200 million and gain a 33% stake in the Mets, the owner of Greenlight Capital "overplayed his hand" with owners Fred and Jeff Wilpon and Saul Katz and will not invest in the team.
"After months of negotiation, the parties were unable to reach agreement, and Mets Ownership has decided to explore other options," the team said in a statment.
It is unclear if the Mets' owners will seek another investor. Wilpon and Katz are embroiled in a $1 billion lawsuit filed against them by the trustee for the Bernie Madoff Ponzi scheme case, and have faced cash shortfalls in the wake of the litigation.
According to the statement, they "have provided additional capital to cover all 2011 losses and is moving forward with the necessary resources to continue to operate the franchise. Ownership will explore other strategic transactions and is under no financial pressure to do a deal on any particular schedule."