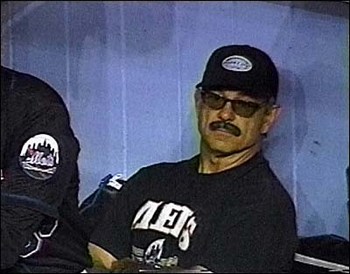 Bobby Valentine in one of his finest moments as Mets manager
Bobby Valentine spent most of yesterday at Fenway Park, but according to
Dan Martin of the NY Post
that doesn't mean he's the Red Sox manager yet.
The former Mets skipper met with Boston hierarchy as new general manager Ben Cherington continues the process of looking for a replacement for Terry Francona, who left after the epic Red Sox collapse at the end of last season along with GM Theo Epstein.
Valentine, 61, has not managed in the majors since leaving the Mets in 2002, and Cherington told reporters yesterday he still has more work to do before settling on a manager.
"This has always been a choice that I'm going to make with ownership," Cherington said.
Valentine reportedly is the favorite among ownership, which values previous big league managerial experience. That could be why the Red Sox didn't rush to hire Dale Sveum, who was interviewed but landed with Epstein and the Cubs last week.