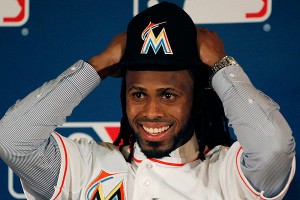 Dan Martin of the NY Post
caught up with Jose Reyes who said he's come to grips with the way his days with the Mets came to an end, but it's still tough for him to take.
"I understand it's a tough situation for the organization," said Reyes, who signed a six-year free-agent contract with the Marlins in December after the cash-strapped Mets decided they couldn't afford him and opted to not make him a lowball offer. "What they're going through isn't easy and that's why I was hurt at the beginning. But with the problems they have, I get it. I feel bad for them."
And he still doesn't quite get why they didn't come up with any offer at all.
"At least come to me and say, 'This is what we have,'" Reyes said Thursday while at a Marlins charity golf tournament at Miccosukee Golf and Country Club. "Make a push. Even if it's not what I'm looking for, show me you still want me."
But as some of his former Mets teammates worked out a couple of hours to the north, Reyes was ready for his new start with the Marlins.