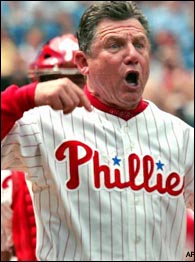 Ex-Phillies Manager Bowa
Four Former major league managers Jim Riggleman, John McLaren, Bob Geren and Larry Bowa appear on the New York Mets' internal list of candidates to become bench coach, organization sources told
ESPNNewYork.com.

Not all of those candidates have yet been contacted, since the Mets did not formally dismiss bench coach Ken Oberkfell until Wednesday and are still brainstorming candidates, a source added.
Riggleman, 58, was in his third season managing the Washington Nationals this year when he resigned 75 games into the season in a dispute with the front office over his job status and coaches undermining his authority. He could be a particular asset to the Mets because of his familiarity with the National League and particularly division.
McLaren, 60, served on the Nationals staff this season as Riggleman's bench coach and briefly served as interim manager after Riggleman's departure. McLaren previously spent parts of two seasons managing the Seattle Mariners.
Geren, 50, managed the Oakland Athletics from 2007 through his dismissal 63 games into this past season.
Bowa, 65, has six seasons of managerial experience with the Philadelphia Phillies and San Diego Padres. He currently is employed by the MLB Network as a studio analyst after serving four seasons as the Los Angeles Dodgers' third-base coach.