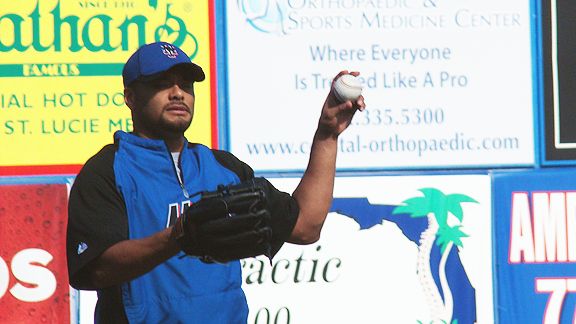 Mets pitcher Johan Santana told
Dan Martin of the NY Post Thursday
he won't have any answers about how much his left arm has recovered from September 2010 shoulder surgery until spring training.
"My arm will let me know how I feel," Santana said on a conference call. "Time will tell. We'll see how it feels. I cannot tell you what's gonna happen 5-6 weeks from now."
Santana spoke after long-tossing in Port St. Lucie, and the lefty said his arm felt good and he expected to be ready for the start of spring training next month. But he has learned after numerous setbacks not to make any predictions.
"I don't want to set any timeframe because we won't know until we get there," Santana said of his potential readiness for Opening Day. "I think this is the first time I've started throwing so early in the year to get ready for spring training."