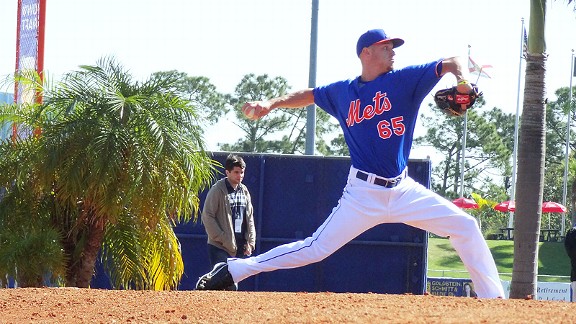 Mets News and Notes:
Zack Wheeler
said he came through a 30-pitch bullpen session feeling OK, although he noted he was not throwing full throttle.
Wheeler was on top of a mound for the first time since being scratched eight days earlier with a right oblique strain.
"Honestly, today is probably the first day that it's 100 percent," Wheeler said. "Leading up to this day, it was getting better every day. So I expected it. I'll continue to get treatment for it probably throughout spring training -- a little preventitive thing.
"That was the first time on the mound in -- what -- a week, a week and a half, whatever it is? I was throwing 70, 75 percent. I let a few of them go just to see how it feels. It felt good."
Frank Francisco
said he aims to step on a mound Saturday for the first time in camp.
Francisco, who has been battling elbow inflammation, long tossed at distances up to 130 feet Thursday morning.
"I just feel like I've got to get my strength -- throw a little more maybe, get my power back," Francisco said. "I feel like I'm not loose yet, like I don't have power, my whole body. I feel like I don't have my release point yet. That takes a while."
He remains likely to open the season on the disabled list, but the absence may be limited to the first six days of the season because of backdating rules.