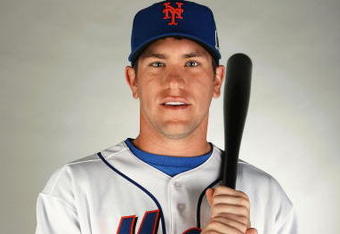 Now that public enemies number one and two, Oliver Perez and Luis Castillo, have been shipped out, Mets fans will be ravenous for a new scapegoat to despise.
Mets fans can be so harsh, if Mother Teresa was alive and she was invited to throw out the first pitch at Citi Field, we might boo her if she doesn't paint the outside corner with 90 mph heat.
For some reason which is hard to pinpoint, it feels like expectations might be ballooning a bit quickly for one Met. So we don't accidentally lynch him for not being the next Joe Mauer, now might be a good time to outline some reasonable expectations for our young catcher Josh Thole, from which we can use as a measuring stick for his season.
Let's first take age. Thole is entering his age 24 season. He is still a few years away from his physical prime, and he has played less than 100 games at the big league level so he is still quite inexperienced. If Thole does not have a big season, it does not mean he is not going to be a solid big leaguer. Jorge Posada only played eight games during his age 24 season and look what he turned into.