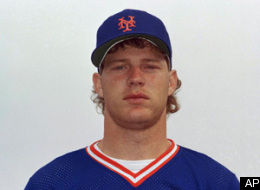 According to the
LA Times
,  former New York Mets player and financial guru Lenny Dykstra was charged Monday with nearly two dozen counts of fraud, grand theft and drug possession, the L.A. County district attorney's office said.
Dykstra, 48, and two co-defendants -- his accountant Robert Hymers, 27, and friend Christopher Gavanis, 30 -- were set to be arraigned Monday afternoon, said Deputy Dist. Atty. Alex Karkanen.
In January, Dykstra, Hymers and Gavanis tried to lease high-end automobiles from several area dealerships by allegedly providing fraudulent information and claiming credit through a phony business, prosecutors claim.
At two dealerships, Dykstra and Hymers allegedly provided information from a man they claimed was a co-signer but who had not authorized his name to be used. The leases were not approved.
But all three men allegedly drove off with three cars at one company by providing fraudulent information, according to prosecutors.