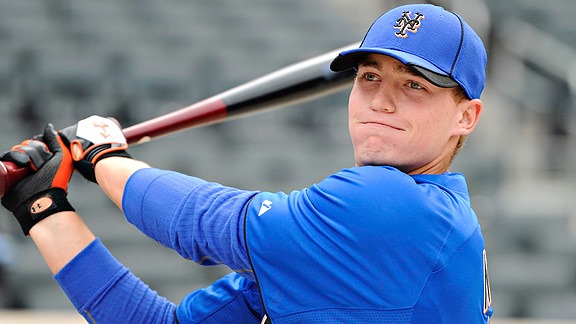 In Brandon Nimmo's words, "a little portion of the dream came true" on Monday afternoon, when the 18-year-old took batting practice in front of a gaggle of scouts and front-office personnel at Citi Field.
The 13th overall selection in June's First-Year Player Draft and the organization's top position-player prospect, the outfielder was on a brief hiatus from the instructional league, where he is extending his first professional season into autumn.
Consider it a reward, of sorts, for being a critical piece of the organization's future.
"Jose Reyes, he said 'hi' to me," Nimmo said of his experience at Citi. "I felt pretty cool about that."
Nimmo, who signed with the Mets minutes prior to Major League Baseball's mid-August deadline, hit .241 with two home runs in seven games in the Class A Gulf Coast League before advancing to Class A Kingsport for another three games to close his season. Overall, he hit .211 while adapting to pro baseball and meeting, perhaps, some of his future teammates.