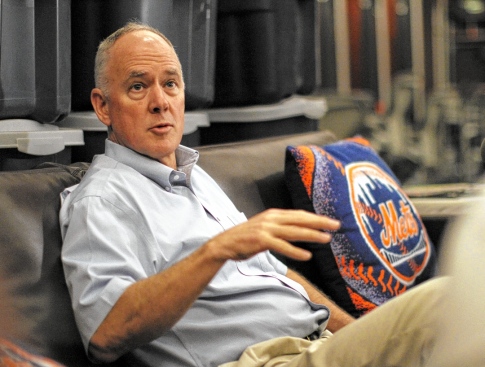 General manager Sandy Alderson provided a state of the team address to reporters before Wednesday's series finale against the Marlins.
According to Alderson there will not be active free-agent spending on significant pieces, but the Mets have resolved to make every attempt to re-sign David Wright and R.A. Dickey.
Also, there is no thought to completely dismantling core assets in order to restock the system for longer-term success.
"I'm not prepared to blow up the team and start over again," Alderson said. "I don't think we need to do that."
Alderson on free agency: "I don't want to give the impression that we're going to be out in the free-agent market looking for significant additions. We have lots of payroll tied up in a handful of players. That's a situation that gradually has to resolve itself."
Specifically asked how he would convince Wright, Dickey or another player the Mets are headed in the right direction, the GM said: "My message said: Look, I think we're very definitely headed in the right direction. But, at the same time, we will not in the near future have unlimited funds."
Specifically on signing Dickey and Wright to extensions, Alderson said: "What we've said over the last couple of months is we're going to make every effort to retain those two guys. I think we are in a position to be able to do that. Whether we are successful or not, time will tell. But we're in a position to make a bona fide effort to do it.