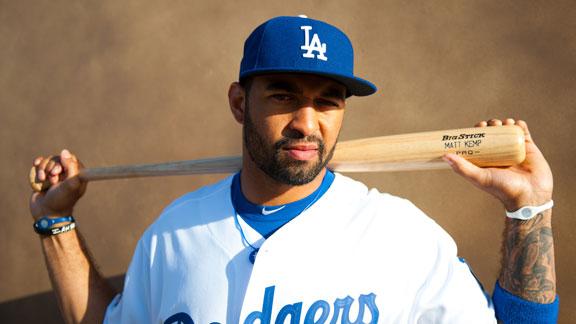 Matt Kemp anyone??
Commentary: Looking at the possible Trade/Free Agent Targets for 2015
Well Mets fans, it has come to reality that the Mets will not be making a playoff push in 2014. So it's time to look for a the possible Trade/Free Agent Targets for 2015 to improve this Mets Club.
Every Mets Fan dreams of having a big slugger to add to the Mets lineup and that's what they need.
The Mets most likely will shop for a power hitting outfielder and a starting shortstop to combine with the nucleus that stands on the team.
In my last Mets Fan Polls (
Vote Here: SS/LF
) that I have conducted, I asked the questions: Who would you like to see at Shortstop and in Left Field in 2015?
So far, no surprise many have requested the likes of
Troy Tulowitzki
at shortstop and
Giancarlo Stanton
to man leftfield, but both have obstacles to get on this team.
Tulowitzki is currently on the 15 Day DL and is looking at season ending hip surgery which would put the brakes on any team making a deal for him. He also is owed an awful amount of money and for any team would be a risk.
Stanton, is expected to stay with the Marlins as the team would like to build around him. The Marlins are expected to offer a contract extension and let's see if he would be inviting to that. If he reneges, they could send him packing but the Mets would not be the first team to look to since they play in the same division.
Other possibilities the Mets could look at shortstop are
Jean Segura
of the Brewers, who is having an off year and can possibly get dealt. He is a speedy leadoff hitter that the Mets could use. The Cubs have young shortstops available including
Starlin Castro
,
Javier Baez
that could be possibly dealt. But the reality is the Cubs could just start both of them as Baez would play second base.
If the Mets want to go the free agent route they will have a limited amount of options. The bigs guns will be
Hanley Ramirez
and
J.J. Hardy
, who will demand a lot because of the power prowess.
Jed Lowrie
, who the Mets have had interest in the past could be a more suitable option and desire less in money. The Mets of course may not go in the route to spend more money and look to Triple-A Infielder
Matt Reynolds
who has been tearing up the minors, could find himself competing for a starting job in spring of 2015.
In the outfield next off-season the Mets will look at all suitable candidates to upgrade as their experiment with
Chris Young
did not get it done for them in 2014.
If I were the Mets I would have to check in on the availability on
Matt Kemp
and
Andre Ethier
from the Dodgers. Matt Kemp's salary is high, but as a impact player could change the dynamics of the Mets offense in 2015.
Carlos Gonzalez
from the Rockies could be another option, but just like Tulo is on the shelf with left knee surgery scheduled soon and would have to put caution in the wind.
The free agent pool for outfielders don't get me excited as well. Only two outfielders that have made a impact on other clubs stand out.
Nelson Cruz
, who the Mets should've signed instead of Chris Young might be a alternative, but now will demand more as he has put up big numbers for the Orioles this season.
Melky Cabrera
who has a resume of playing in the big lights of New York could become a more lighter option if the Mets want to upgrade their offense. Both have been linked to PED use, but have been playing to their potential without it so far.
The Mets do not really have stand out outfielders ready in their farm system as
Kirk Nieuwenhuis
and
Matt den Dekker
will get a chance to see if they are viable options in 2015. They both seem to me as good backups options as they both can play all outfield positions. The Mets will have to wait on
Brandon Nimmo
and
Michael Conforto
to move up in the ranks and make a impact at the Major League Level.
So, who could the Mets Trade to improve in 2015?
The Mets have pitching, pitching, and more pitching which would lead me to believe if they were to make a splash with a trade someone has to go. With the Mets money constraints, I see
Dillon Gee
and
Jon Niese
as possible candidates to be moved. Niese only makes $5M and is a LHP that could prove some value. Gee has been one of the better pitchers in the NL when healthy. Gee is also a bargain with a $3.6 Million contract. They both have have injury problems this year and could leave the Mets wanting to rid themselves of their contracts.
Bartolo Colon
will get shopped, but his age will limit the Mets to who they will get in a return.
The Mets also have catcher
Travis d'Arnaud
who has shown some improvement this year with
Kevin Plawecki
moving to Triple-A might make him a viable option to get traded. I see Plawecki as a more offense kind of player and could be a better option to fill the everyday shoes behind the dish. Some believe that the Mets are higher on Plawecki than d'Arnaud.
Daniel Murphy
, who is leading the NL with hits this year might get shopped if the price is right. Many have speculated and it has been reported that the Mets would like to keep Murphy and offer him a contract extension instead. But we will see...
The Mets can also see if there will be a taker for
Lucas Duda
this off-season as he broke through with his first 20+ HR season, but I don't think the Mets will rock the boat on that issue.
Wilmer Flores
, who has played decently at multiple positions might be another player shuffled into deal. Of Course the Mets could use him as a utility player in 2015.
Last but not least would be the easiest option trading top prospect pitcher
Noah Syndergaard
to get the Mets what they need, but I think the Mets want to see him along side of
Matt Harvey
,
Zack Wheeler
,
Jacob deGrom
and others to build a stable rotation of the future.
Rafael Montero
seems a more likely candidate as he has bounce back and forth from the minors with no real good results coming yet.
It will all become real this off-season and we will see how Sandy Alderson can take what he has and transform it into a winning baseball team.