Preview: Game 55
New York Mets (25-29) at Philadelphia Phillies (24-28)
Probable Pitchers:
Jacob deGrom (0-2) 1.83 ERA vs Kyle Kendrick (1-5) 4.05 ERA
TV - PIX 11 - Radio - WOR 710 AM - First Pitch - 3:05 PM
Preview: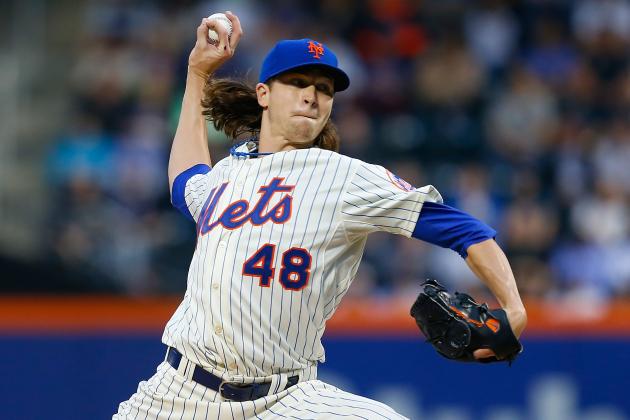 Mets Rookie Jacob deGrom has been outstanding through his first three starts, but they've all ended in losses for New York (25-29) as he's gone 0-2 with a 1.83 ERA.
The New York Mets look to finally give deGrom some support Saturday when they continue a five-game series against the Philadelphia Phillies.
The right-hander has been backed by four runs while becoming the first Mets pitcher to have an ERA under 2.00 through his first three starts without a win since
Pete Harnisch
and
Mike Birkbeck
in 1995.
Jim McAndrew
is the only Mets rookie to do that through his first four starts in 1968.
The bullpen didn't do deGrom any favors Monday, wasting his 6 2-3 scoreless innings by surrendering five runs over the last two of a 5-3 defeat to Pittsburgh.
DeGrom is also doing his part at the plate, going 4 for 5 while getting at least one hit in each of his three starts. A shortstop at Stetson, he's accounted for half of New York's hits by pitchers.
The Mets may need him to go deep into this outing after fellow rookie
Rafael Montero
lasted 3 2-3 innings before seven relievers were used in a 6-5, 14-inning loss to the Phillies (24-28) on Friday.
New York had won the previous six meetings in Philadelphia, including a 4-1 victory in the opener of this series Thursday.
The Phillies will turn to Kyle Kendrick (1-5, 4.04), who may sympathize with deGrom's plight for a win. Kendrick is 8-8 with a 3.58 ERA vs the Mets in his career..
Kendrick scattered six hits in 6 2-3 innings of a 9-0 victory over Colorado on Monday, his first in 17 starts since beating the Chicago Cubs 9-8 on Aug. 6. Kendrick was 0-10 with a 5.11 ERA during his drought while receiving an average of 2.51 runs of support.
The right-hander gave up four runs in 5 1-3 innings of a 5-4 win at New York on May 10. He's won his last two home starts against the Mets, yielding four runs in 13 2-3 innings.
David Wright
sees RED when he meets Kendrick, He is batting .341 (15 for 44) with 3 big flies...
Daniel Murphy
is not hot vs Kendrick batting a mere .200 (6 for 30)...
Lucas Duda
also in the cold zone vs Kendrick (3 for 18) batting .167.
Juan Lagares
, who leads off is batting .600 (3 for 5) with a 2
B...
Domonic Brown
snapped out of his slump Friday, connecting for a three-run homer while adding another RBI. He had been 3 for 30 with one homer and two RBIs over his previous 10 games.
Mets can beat Kendrick, they just have to have the Wright kind of day...LGM!
Batter/Pitcher Splits: