| | | | | | | | | | | | | |
| --- | --- | --- | --- | --- | --- | --- | --- | --- | --- | --- | --- | --- |
| | 1 | 2 | 3 | 4 | 5 | 6 | 7 | 8 | 9 | R | H | E |
| | 1 | 0 | 0 | 0 | 1 | 2 | 2 | 3 | 0 | 9 | 14 | 1 |
| | 0 | 4 | 0 | 0 | 0 | 3 | 0 | 0 | 0 | 7 | 14 | 1 |
W: J. Mejia (4-0) L: M. Thornton (0-1) S: K. Farnsworth (3)
HR: NYM - T. d´Arnaud (3),C. Granderson (4),E. Young (1),C. Young (3) NYY - B. Gardner (2)
Recap: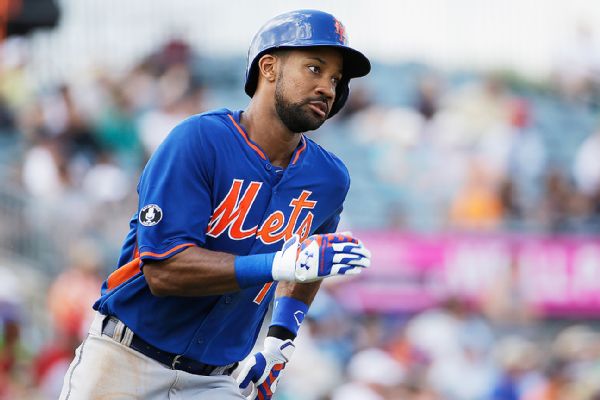 Chris Young
capped a three-run eighth inning with a tiebreaking two-run homer to send the New York Mets past the New York Yankees, 9-7, on Monday in the opener of their annual Subway Series.
The Mets trailed 7-4 after six innings before
Eric Young
, Jr. stroked a two- run homer in the seventh off
Alfredo Aceves
to get the visitors within one.
Lucas Duda
laced an RBI single off
Matt Thornton
(0-1) in the eighth to tie the game, and after
Preston Claiborne
replaced Thornton on the mound, Chris Young clubbed Claiborne's second pitch into the seats in left for a 9-7 lead.
After striking out
Alfonso Soriano
to end the seventh,
Jenrry Mejia
(4-0), who was sent from the starting rotation to the bullpen earlier Monday, worked around a pair of singles in the eighth to maintain the Mets' margin.
Kyle Farnsworth
entered for the Mets in the ninth and issued a leadoff walk to
Derek Jeter
and a one-out single to pinch-hitter
Mark Teixeira
that left runners on the corners.
However, Farnsworth was able to secure his third save of the season by getting
Brian McCann
to ground into a game-ending 3-5-3 double play.
Curtis Granderson
returned to Yankee Stadium for the first time since signing with the Mets in the offseason and slugged a two-run homer, while Eric Young, Jr. finished 3-for-5 with two runs scored in the Mets' fifth straight win over their cross-town rivals.
Brett Gardner
hit his second career grand slam in the setback, while
Yangervis Solarte
collected three hits, an RBI and two runs scored for the Yankees, who have lost three straight overall.
Jeter registered his first three-hit game since Sept. 30, 2012 in the loss.
The Mets manufactured a run in the first on
David Wright
's RBI groundout that scored Eric Young, Jr. for a 1-0 lead, but Gardner's grand slam in the second gave the home team control.
The Yankees started the second with three consecutive singles, including Alfonso Soriano's 1,000th career American League hit, making him just the seventh player in MLB history to compile 1,000 hits in each league.
Mets starter
Bartolo Colon
briefly slowed the hit parade by retiring the next two batters, but Gardner jumped on a first-pitch fastball and scorched it into the seats in right for a 4-1 lead.
Travis d'Arnaud
smacked a one-out solo shot in the fifth to trim the margin to two before Granderson followed Wright's leadoff single in the sixth with a drive over the wall in right-center field to tie the game.
The Yankees answered with three runs in the home half, as Soriano stroked a ground-rule double before scoring on Solarte's single to right.
Kelly Johnson
then sliced a triple into the gap in left-center field to score Solarte, but the Yankees first baseman was caught in a rundown between third and home when
Brian Roberts
followed with a grounder to short.
After Gardner extended the inning with a single to right,
Carlos Torres
took over on the mound for the Mets. With Jeter at the dish, Gardner took off for second and d'Arnaud's throw sailed into center field, allowing Roberts to race home for a 7-4 lead.
Aceves replaced Yankees starter
Hiroki Kuroda
to start the seventh and walked d'Arnaud before Eric Young, Jr. smacked his first homer of the season two batters later to bring the Mets within 7-6.
Game Notes
With his 1,000th AL hit, Soriano became the first player in MLB history to accrue 1,000 hits, 500 runs, 500 RBI, 100 homers and 100 stolen bases in each league.
Frank Robinson
,
Dave Winfield
,
Vladimir Guerrero
,
Fred McGriff
,
Orlando Cabrera
and
Carlos Lee
are the other players with 1,000 hits in each league ... Granderson spent four seasons with the Yankees before signing with the Mets in the offseason ... The Mets homered in four straight innings for the first time since May 19, 2005 at Philadelphia ... Kuroda allowed four runs on seven hits over six innings ... Colon yielded seven runs -- six earned -- on 11 hits over 5 2/3 frames ... The Yankees entered the game 16-0 this season when leading after seven innings.
Box Score:
E_T.d'Arnaud, B.McCann. LOB_NY Mets 5, NY Yankees 7. 2B_E.Young, E.Campbell, C.Young, R.Tejada, A.Soriano. 3B_K.Johnson. HR_T.d'Arnaud (3) off H.Kuroda, C.Granderson (4) off H.Kuroda, E.Young (1) off A.Aceves, C.Young (3) off P.Claiborne, B.Gardner (2) off B.Colon. SB_E.Young (15), D.Murphy (8), B.Gardner (8). CS_D.Murphy. GIDP_B.McCann, K.Johnson. DP_NY Mets 2 (L.Duda, R.Tejada and L.Duda), (L.Duda, D.Wright and L.Duda).
WP_S.Rice.
T_3:34. A_46517.
Umpires_Home,Mike Estabrook; First, Jerry Layne; Second, Mike DiMuro; Third, Hunter Wendelstedt.