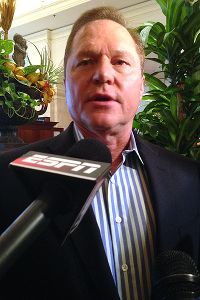 Mets News:
In a
report from ESPN NY
, Scott Boris bashes the Mets and calls out the Wilpon's and says, They are frugal.
"The Mets are like NASA," Boras said Wednesday afternoon at the GM Meetings. "They have big rockets, a lot of platforms and very few astronauts. Astronauts are hard to find. They've got one guy with the 'Wright' stuff. That's for sure. And they've got a lot of 'Arm'-strongs, too. But they're certainly a club that I'm sure is in a pursuit of a higher level of talent."
On the Mets Willingness to spend:
Well, I think the ability to spend and actually spending are two different things," said Boras, who represents free agents including
Jacoby Ellsbury
,
Shin-Soo Choo
and
Stephen Drew
. "And that's only for the Mets to diagnose. Certainly their franchise value has gone through the roof -- they're in the well over $2 billion. They're a very successfully run business operation. The Mets have the ability to pretty much do what they want to do. But it's hard to find astronauts."
Responded Alderson: "I don't think his intergalactic metaphor is exactly right. I'm not sure, because I've got to first understand it."