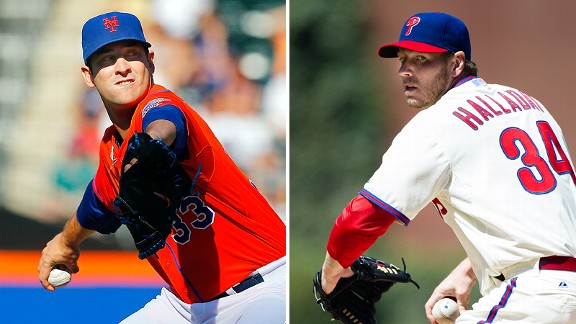 Mets News:
Sandy Alderson told Mike Lupica on ESPN New York 98.7 FM that
Matt Harvey
spoke at length with
Roy Halladay
on Tuesday. Halladay told Harvey that he, too, had a torn ulnar collateral ligament in his pitching elbow and never had it surgically repaired.
Still, Alderson portrayed Harvey's optimism about avoiding
Tommy John
surgery as partly denial. Alderson would only say there is "some possibility" surgery could be avoided.
An ESPN Stats & Information look at pitchers who have landed on the DL since 2010 with UCL tears found none returned to the majors in quicker than 11 months.
"I think anybody would be in denial to some extent," Alderson said. "And so, typically, in these situations where denial is part of one's reaction, the passage of time usually helps with that. The plan here is we're going to wait a couple of weeks, at least. I think the doctors also believe that we should wait a couple of weeks, three weeks, and then test it -- see if he's hurting, see if he's not hurting.
"I know Matt had a long conversation yesterday with Roy Halladay, who is here with Philadelphia. Halladay said that, look, I had the same problem 10 years ago and I still haven't had surgery. So there is some reason for hope in that regard. So I don't think that when Matt tweeted that it was just because he's in deep denial. There's some possibility this can be avoided. Now will there always be a risk that it will tear further or tear completely? Yes. And, I guess, one of the questions is: Well, does that make any difference? It certainly would change the timetable for when he comes back. And if he doesn't have the surgery, there will always be the risk lingering that it could go.
"But there is some possibility that surgery will not occur and Matt will decide to do something else. I think we just need to wait, in this case, a few weeks to see exactly where we are."