Mets Minor League Roundup 6/27:
AAA - TACOMA 2, LAS VEGAS 0:
Vegas was shut out by Tacoma Pitcher
Danny Hultzen
..
Ike Davis
went 0-4 with 1 strikeout, his Average dropped to .283..The 51's only had 3 hits to muster.
Box
AA - TRENTON at BINGHAMTON (ppd):
Thursday night's game between the B-Mets and Thunder was postponed due to inclement weather. It will be made up as part of a doubleheader on July 26 at 5:30 p.m. Rain has affected four straight B-Mets games. Monday at Portland started with an 84-minute delay. Tuesday's game was suspended after two innings. Wednesday's game was postponed before it began.
A+ - PALM BEACH 10, ST. LUCIE 6:
Catcher
Kevin Plawecki
was forced to leave the game after shifting over for a breaking pitch in the dirt while catching. He appeared to be in pain, possibly in the hip area. Palm Beach built a 10-1 lead. Starter
Angel Cuan
was charged with nine runs (six earned) on nine hits and four walks in 5 1/3 innings.
Jayce Boyd
produced a three-run homer in the seventh.
Dustin Lawley
went 3-for-5.
Box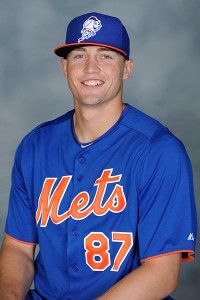 A - SAVANNAH 10, ROME 3:
Savannah starter
Logan Taylor
left the game after 1 2/3 innings, accompanied by the team trainer.
Julian Hilario
gave the Gnats 3 1/3 innings of scoreless relief, his longest outing of the year, to take the team's pitching staff through the fifth inning. The Gnats (3-4/46-30) broke a 1-1 tied with a five-run sixth.
Brandon Nimmo
began the frame with a single. After
Greg Pron
walked,
Cole Frenzel
rolled a single into right field to score Nimmo from second with the go-ahead run.
Nelfi Zapata
followed with a line-drive single to plate Pron.
Albert Cordero's
single and
Phillip Evans'
double each scored a run. Cordero trotted home with the final run of the inning on a wild pitch for a 6-1 lead. The Braves picked up two runs in the seventh against eventual winning pitcher
Tyler Vanderheiden
. Vanderheiden left the bases loaded for
Hunter Carnevale.
Carnevale forced home the second run of the inning with a walk to make the score 6-3, but recovered to strike out
Chris Edmonson
and leave the bases loaded. Savannah added three runs in the seventh, keyed by a two-run double from Evans. Evans finished 2-for-4 with three RBIs.
Box
RK - GREENEVILLE 8, KINGSPORT 0:
The K-Mets (2-6) were held hitless until
Yeixon Ruiz
singled with two outs in the eighth. They finished with two hits.
Box
SS - ABERDEEN 7, BROOKLYN 5:
Cyclones starter
Carlos Valdez
seemed to settle down after first-inning trouble, putting up zeroes over the next three innings, but the southpaw ran into trouble in the fifth. After striking out
Scott Kalush
to start the frame, three straight hits from the IronBirds pushed two runs across and chased Valdez.
David Wynn
(0-2) entered and retired
Connor Bierfeldt
for the second out of the frame, but then issued back-to-back walks to load the bags for
Anthony Vega
. The IronBirds center fielder connected on what proved to be the biggest swing of the game, ripping a double to left field to score three runs and give Aberdeen a 6-5 lead after five innings. Brooklyn had a chance to pull even in the seventh, loading the bases with two outs, but Aberdeen reliever
Jimmy Yacabonis
retired
Juan Gamboa
, leaving the bags full.
Akeel Morris
tossed two scoreless relief innings, striking out four, before giving way to
Kevin McGowan
, who made his professional debut. The right-hander from Franklin Pierce University struggled in his first outing, allowing a run on one hit with a walk.
Box
RK - GCL METS at GCL MARLINS (ppd.)