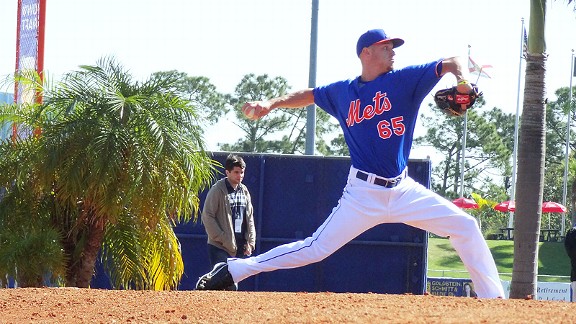 Mets News and Notes:
Zack Wheeler
said he came through a 30-pitch bullpen session feeling OK, although he noted he was not throwing full throttle.
Wheeler was on top of a mound for the first time since being scratched eight days earlier with a right oblique strain.
"Honestly, today is probably the first day that it's 100 percent," Wheeler said. "Leading up to this day, it was getting better every day. So I expected it. I'll continue to get treatment for it probably throughout spring training -- a little preventitive thing.
"That was the first time on the mound in -- what -- a week, a week and a half, whatever it is? I was throwing 70, 75 percent. I let a few of them go just to see how it feels. It felt good."
Frank Francisco
said he aims to step on a mound Saturday for the first time in camp.
Francisco, who has been battling elbow inflammation, long tossed at distances up to 130 feet Thursday morning.
"I just feel like I've got to get my strength -- throw a little more maybe, get my power back," Francisco said. "I feel like I'm not loose yet, like I don't have power, my whole body. I feel like I don't have my release point yet. That takes a while."
He remains likely to open the season on the disabled list, but the absence may be limited to the first six days of the season because of backdating rules.
"We never know," Francisco said about Opening Day. "I might give you a little surprise. I know I'm going to be OK. If I lose a few games, maybe five or six games, it's for my own good. I know I can go out there and rush a little bit, but I'm risking taking another step back. That's what I don't want."
Johan Santana
is due to appear in a Grapefruit League game next Thursday against the Detroit Tigers in Port St. Lucie. Santana threw off a mound, while Zack Wheeler (oblique) long-tossed Wednesday. Venezuela manager
Luis Sojo
said Santana is "very sad" about being unable to represent his country in the World Baseball Classic.
Kansas City Royals first baseman
Eric Hosmer
, not
Ike Davis
, was tabbed to replace injured
Mark Teixeira
on Team USA's WBC roster.
Joe Torre
acknowledged considering Davis but suggested Hosmer already being in Arizona, where Team USA opens play against Mexico on Friday, was a major factor.
"There were a couple of issues," Torre told David Lennon in Newsday. "We were looking for a left-hander, and Ike is certainly someone we talked about. We talked about
Ryan Howard
. But where we were, if we could stay in Arizona -- only because of how close we were to the end and he wouldn't be able to get here for [Wednesday's exhibition] game and stuff -- it just worked out perfect. He's here."
Although it is unlikely to materialize,
Francisco Rodriguez
said he would like to rejoin the Mets. K-Rod, who is pitching for Venezuela in the WBC, remains a free agent.
David Wright
went 2-for-4 with an RBI and played five innings at third base in Team USA's WBC tune-up against the Colorado Rockies.
Marlon Byrd
and
Jordany Valdespin
both got looks in center field during Wednesday's game against Venezuela.