Mets News and Notes: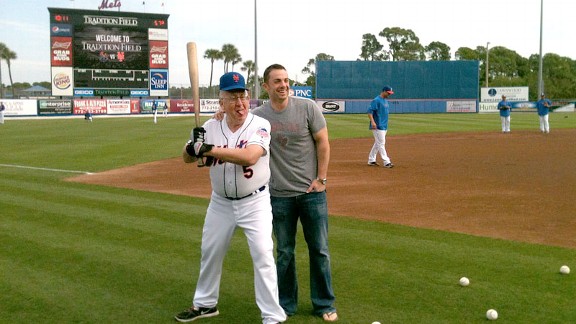 Photo courtesy, ESPN NY
Before departing for the WBC on Saturday,
David Wright
stopped by the complex and got PR man Jay Horwitz to slip into the third baseman's uniform. The idea came from an early morning tweet from @Jay_HorwitzPR, who wrote: "Now that David Wright has left for WBC, thinking of dressing up in his uniform today. Will anyone know the difference? Look about the same."
LaTroy Hawkins
, who has yet to appear in a game for the Mets, is slated to enter Grapefruit League play during the upcoming week.
Hawkins, 40, cited the long spring training as the reason he has not been pitching in spring-training games since those started a week ago. He said he will get into games at a date comparable to past spring trainings.
"Spring training really starts this week coming up," Hawkins said. "That's the way I've always done it. The whole extra week we have for the WBC, I don't think I'd go for pitching a week's more games just because the WBC is starting."
Hawkins, a right-handed reliever, went 2-3 with a 3.64 ERA in 48 relief appearances for the Los Angeles Angels last season. In 42 innings, he allowed 45 hits and 13 walks while striking out 23.
Hawkins is on a minor league deal, but is a sound bet to make the team. He said he felt no particular urgency to get into games from the outset to impress his new employer and soldify a spot.
A day after
Terry Collins
broached the possiblity of
Jonathon Niese
starting on Opening Day and
Johan Santana
waiting until the third game of the season to start, Santana was asked if he is "fully confident" he can break camp with the team and avoid the DL.
"That's what I'm working on,
It's too early," Santana said. "We'll just go one day at a time."
Santana, who has been backed off mound work because of what is being labeled shoulder fatigue, has been long tossing at distances beyond 100 feet. He plans to again do so Sunday.
The Mets optimally want Santana to throw batting practice Tuesday and enter Grapefruit League action by March 10 or 11 to be ready for Opening Day, but Santana is not locked into that schedule.
"We'll see," Santana said. "I'll go one day at a time. It depends on how I feel. So tomorrow there is another one [long-tossing session] and we'll go from there, see how it feels."
Collins expects
Bobby Parnell
will be the closer to start the season.
Frank Francisco
may not ready for that role because he suffered elbow inflammation early in camp.
Daniel Murphy
hit off a tee and could be in a Grapefruit League game in about nine days.
Pedro Feliciano
threw off a mound Friday while wearing a heart monitor.