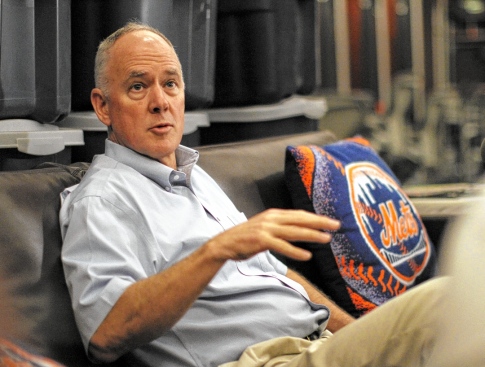 General manager Sandy Alderson provided a state of the team address to reporters before Wednesday's series finale against the Marlins.
According to Alderson there will not be active free-agent spending on significant pieces, but the Mets have resolved to make every attempt to re-sign David Wright and R.A. Dickey.
Also, there is no thought to completely dismantling core assets in order to restock the system for longer-term success.
"I'm not prepared to blow up the team and start over again," Alderson said. "I don't think we need to do that."
Alderson on free agency: "I don't want to give the impression that we're going to be out in the free-agent market looking for significant additions. We have lots of payroll tied up in a handful of players. That's a situation that gradually has to resolve itself."
Specifically asked how he would convince Wright, Dickey or another player the Mets are headed in the right direction, the GM said: "My message said: Look, I think we're very definitely headed in the right direction. But, at the same time, we will not in the near future have unlimited funds."
Specifically on signing Dickey and Wright to extensions, Alderson said: "What we've said over the last couple of months is we're going to make every effort to retain those two guys. I think we are in a position to be able to do that. Whether we are successful or not, time will tell. But we're in a position to make a bona fide effort to do it.
"Those are the two big issues. Retaining our own players, as I've said, is one of the key tenets of the approach we're trying to take."
Alderson said he wouldn't rule out a contract that takes Wright to the end of his career. "Would I rule that kind of contract out? No. I don't know how long he expects to play -- presumably beyond 31 or 32. ... I still hold a philosophy, but I think there are always exceptions to any rule," the GM said.
Alderson acknowledged it would be ideal to ink both early in the offseason. Otherwise, trades might have to be considered.
"There's a preferred time frame from a baseball standpoint," he said. "As you get further into the offseason with the uncertainty of the contract situation, then you do have to start thinking about other possibilities (trades). That's not something we're contemplating right now, but there's that inevitability."
Alderson listed the goals as: 1. Build through the farm system. 2. Retain core players. 3. Add free agents/trade acquisitions on a "fairly judicious basis."
The trade route may be active this winter. "I think it's possible, given what we have, that we'll be more active in the trade market," Alderson said. "But that's not a given, necessarily. I really do believe some of our players are on the verge of making bigger contributions." The GM added that there would need to be caution in trading a surplus of starting pitching because a need always arises for extra quality arms.
Alderson on 2012: "Overall a disappointing season marked by some positive things, I think. But, overall, inconsistency and disappointment with the won-loss record."
What have I taken from the statements of Sandy Alderson. The Mets will make a attempt to retain David Wright and R.A. Dickey and if they are not in the Mets pockets by the beginning of Spring Training they both will be trade bait by July.

The Mets would love to clear space on their payroll which would include the salaries of Johan and Jason Bay. But it don't necessarily mean it will be easy, meaning that they will both probably be back in 2013..

The Mets will shop all of their players to see the market value is...But the Mets will not be trading for Major Superstars that have high salaries.. If the Mets make a trade, it will have to fill voids in their roster.

And Of Course, The Mets will not be in the hunt for players that will be demanding large salaries in the free agent market... Lower Level Players that probably won't demand as much... So basically bottom barrel players like the Rauch's and Francisco's of the world.
It should be interesting winter.........DD