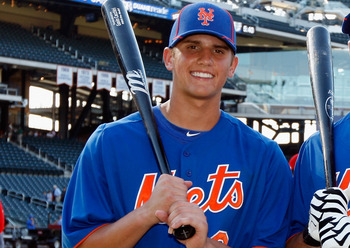 Shortstop Gavin Cecchini, the Mets' top pick (12th overall) in last month's draft out of high school in Louisiana, suffered a "small fracture" to the tip of his middle finger after getting hit by a pitch Wednesday, according to Paul DePodesta.
"I'm not one to estimate recovery time. Fortunately, he's already had a pretty full year," DePodesta added.
Cecchini had been hitting .250 with one homer, 13 RBIs and two steals with 13 walks and 26 strikeouts in 132 plate appearances with Kingsport.