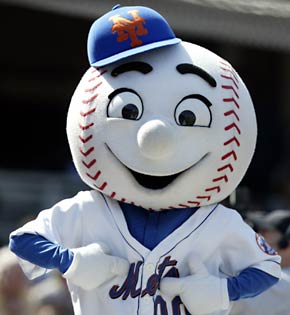 METS AT A GLANCE: Following yesterday's 9-2 loss, the Mets have won five of their last seven games.
AT HOME: The Mets are 24-18 at home this year...The 24 wins are tied for the sixth-most in the majors.
METS STARTERS: Have pitched 6.0 or more innings in 17 of their last 18 contests...During that span, they are 9-7 with a 2.66 ERA (36 earned runs/122.0 innings).
PITCHER OF THE MONTH: Major League Baseball announced on Monday that R.A. Dickey won the National League Pitcher of the Month award for June...It is Dickey's first career Pitcher of the Month honor...He went 5-0 in six starts, leading the majors for the month in ERA (0.93), innings pitched (48.1) and strikeouts (55)...His five wins were also tied for the most in the majors...He also became the fourth Mets pitcher to finish a calendar month 5-0 (or better) with an ERA below 1.00 (David Cone, May, 1988; Jesse Orosco, August, 1983; Tom Seaver, September, 1969)...Dickey is the first Mets pitcher to win the award since Johan Santana in April of 2009...Earlier this season, the righthander won the Pitcher of the Week award for the period, May 21-27.
FIRST TIME IN 100 YEARS: Dickey had a 0.93 ERA for the month of June despite allowing five earned runs on June 24 vs. the Yankees... According to the Elias Sports Bureau, this was the first time in the 100-year tracking of earned runs that a pitcher allowed five earned runs in a start, yet finished the month with an ERA below 1.00.
RANKINGS: R.A. Dickey, who was named to his first All-Star team on Sunday, leads the majors with 12 wins, is fourth in the majors with a 2.15 ERA and is second in the NL and fifth in the majors with 116 strikeouts.
WELCOME TO THE CLUB: R.A. Dickey became the fifth pitcher in franchise history to win 10 straight decisions...The last Mets pitcher to accomplish that feat was Johan Santana, who won 10 straight from July 9, 2008-April 6, 2009...The others are Tom Seaver (16 wins from 1969-1970), Dwight Gooden (14 wins in 1985) and Terry Leach (10 in 1987).
STRIKEOUTS: R.A. Dickey recorded his fifth double-digit strikeout game of the year in his last start at Los Angeles...He is tied with Texas' Yu Darvish for the most double-digit strikeout games this year...Dickey has those five double-digit strikeout games in his last eight starts...The last Mets pitcher to do that was David Cone in 1992 and the last major league pitcher to have 10 or more strikeouts five times over an eight start span was Rich Harden in 2008.
BULLPEN: The Mets bullpen allowed six runs in 2.0 innings of work yesterday...The pen ranks last in the majors with a 5.11 ERA...New York relievers have 17 losses, the second-most in the majors, behind Milwaukee (20)...The Mets also have 13 blown saves, tied for the third-most in the majors.
WRIGHT: David Wright, who was named to his sixth All-Star team on Sunday, is second in the majors with a .441 on-base percentage, fifth with a .350 batting average and tied for eighth with 48 walks...He is tied for fifth in the NL with 54 runs scored and 55 RBI...The Mets are 26-9 this year when Wright has an RBI and 29-14 when he scores a run.
DANIEL MURPHY: Went 1-4 yesterday and has a hit in his last seven starts...Murphy is batting .467 (14-30) during that stretch...He also has 14 RBI in his last seven games.
IKE DAVIS: Has 13 hits in his last 31 at-bats with runners in scoring position (.419) with five home runs and 27 RBI...Davis is hitting .306 (22-72) with six home runs and 24 RBI over his last 21 games dating back to June 9.
FIRST TIME THIS YEAR: Tonight's game features two starting pitchers with double-digit wins...This is the first time in the majors this season that the pitching matchup features two starters who entered the game with 10 or more wins.