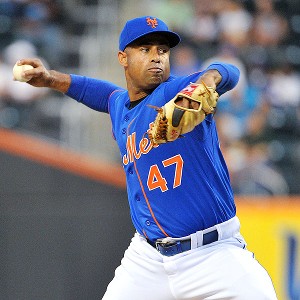 The Mets have informed 41-year-old right-hander Miguel Batista that he has made the Opening Day roster, all but finalizing the bullpen. Batista, who is scheduled to start Saturday's Grapefruit League game against the Marlins, will serve as a long reliever and spot starter.
"He keeps himself in terrific shape," Mets manager Terry Collins said. "He knows what he's doing on the mound. He gives us that veteran presence in the bullpen, which helps. We've got some young people on this team and they can turn to him for some leadership, which he can provide."
The Mets had to inform Batista by Friday morning if he was going to make the team. Had they cut him after that deadline, they would have owed Batista a $100,000 retention bonus.
Instead, the Mets put him on their roster, optioning right-hander Chris Schwinden to Triple-A. Batista will likely join Frank Francisco, Jon Rauch, Ramon Ramirez, Manny Acosta, Bobby Parnell and Daniel Herrera in the Opening Day bullpen, though Herrera will only make the team if Tim Byrdak is not fully healed from left-knee surgery.
Batista won his 100th career game as a starting pitcher with the Mets last summer, posting a 2.64 ERA in five relief appearances and four starts. A veteran of 10 different teams, Batista has spent time as a starting pitcher, closer, middle and long reliever over his 17-year career.
"He'll pitch some short spurts," Collins said. "But he's the one guy that's durable enough. He'll throw enough that if we need a spot start, he can give it to us."