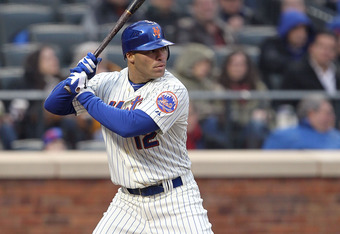 According to
Andy Martino of the NY Daily News
, Outfielder Scott Hairston, whose oblique strain once made an April stint on the disabled list seem inevitable, continues to improve, increasing the team's hopes that he will be ready for Opening Day — but center fielder Andres Torres (calf) is not progressing.
The morning after testing his sore side by hitting off a tee, Hairston said he "felt good" on Saturday, and did the same. He hopes to take live batting practice on Sunday and Monday, and appear in a Grapefruit League game midweek.
If he proceeds without a setback, Hairston would help to settle the Mets' center field situation. The team has been forced to recall Matt den Dekker from minor-league camp and audition infielder Jordany Valdespin at the position.
The organization is high on the 24-year-old den Dekker (one team official predicted "he's going to be a Gold Glove center fielder, with power"). Still, he has not yet played in Triple-A, and the team would prefer to break camp with Torres and Hairston. Hairston's status now seems more promising than Torres'.
"He's not a whole lot better," Terry Collins said of Torres. "Each day means more time off, as far as him coming back. It's a pretty big piece of the puzzle. We got him to fill a big void for us, and him being out, out of the gate, and with Scott hurt, we're going to scramble."