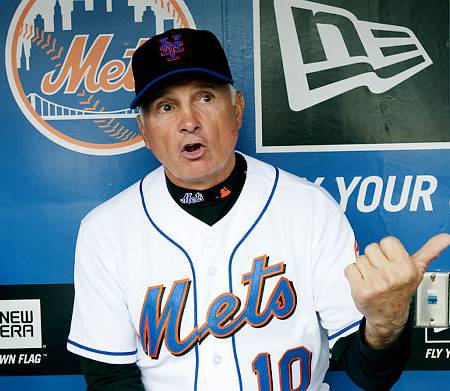 Terry Collins
gave his state-of-the-Mets address This morning in Port St. Lucie. Here is a complete outline of what was said:
Johan Santana's health is the most important thing this camp will determine. "In my mind, he'll be ready," Collins said about Santana being ready for Opening Day. Collins said he hopes to get 25 to 28 starts from Santana this season, with the southpaw getting skipped or pushed back at times during the season if he's healthy to ease him back to a full major league season after he missed 2011. Collins noted that with several team off-days in April, currently five of Santana's first six starts would be on an extra day of rest without the need to juggle the rotation.
Collins reiterated that new center fielder Andres Torres is very likely his leadoff hitter, with Daniel Murphy and Ruben Tejada really the only alternatives. Murphy is locked in at second base (and probably as the No. 2 hitter), with the only thing that can disrupt Murphy being the Opening Day starter an injury. On days Torres does not play, Scott Hairston will be the backup center fielder. And when Ike Davis is off, Justin Turner will man first base. Turner has not seen any major league action at first base, and has made only one appearance in the minors there -- with Billings in 2006. The bottom line, though, is that with Ronny Cedeno as a backup middle infielder, Turner needs the versatility to maximize his usefulness. And the Mets don't want to shuttle Lucas Duda or Murphy to first base occasionally since they're learning new positions.
Collins cited the sixth and seventh slots in the bullpen, the bench and catcher as the primary battles in camp. Mike Nickeas is the logical frontrunner for the backup catcher position behind Josh Thole, but needs to prove in camp he can hit at a minimal acceptable level for the majors. Collins said Nickeas has worked to shorten his swing, which should help. "The days he plays we can't be hitting for him in the fifth inning," Collins said. Collins added that Rob Johnson and Lucas May, whom Collins knows from the Dodgers organization, are viable competitors to Nickeas.
There are five semi-locks for the bullpen: closer Frank Francisco, Jon Rauch, ex-Giant Ramon Ramirez, left-hander Tim Byrdak and Manny Acosta. That leaves two slots. Collins said he ideally would have a second southpaw with Byrdak, but Ramirez has good numbers against lefty hitters if that's not the case (actually .260 career opponent batting average vs. left-handed hitters, versus .202 against righty batters.). Collins said former Atlanta Brave Chuck James will be a solid contender for second left-hander role if the Mets carry one. Former Pirate Garrett Olson will work as a starter in camp, but will get a look for that specialist role if he retires lefty batters in camp. Other lefties include Daniel Herrera and prospect Robert Carson.
The focus in spring training will be on better execution, such as a leading the league in sacrifice bunting by 10 rather than simply being even with the league leaders.
Collins said the Mets may be the youngest team in baseball this season. As for the minors, he said: "Yeah, in the upper levels we might be a little thin, but we've got people coming. ... Patience is a tough word in New York City, but we've got to have it."
The manager said Jason Bay is flying to Florida today and will be at camp well ahead of Saturday's official reporting date for position players.
Among prospects, Collins is eager to see solid-hitting second baseman Reese Havens, who was taken in the same first round as Davis in 2008. Havens has been tormented by upper-body injuries during his career, but is healthy now and will work exclusively at second base in camp. Collins said once he gets to the minors to open the year he would be exposed to other positions, too.