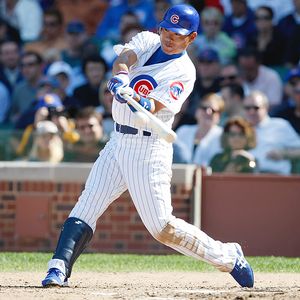 Andy Martino of the Ny Daily News reports
with Spring training is three weeks away, the Mets off-season work might not be complete.
According to two team insiders, the club is looking for a veteran left-handed bat for the bench, and is shopping in the aisle that includes Rick Ankiel, Kosuke Fukudome, Raul Ibanez and Johnny Damon.
Ankiel or Fukudome could provide Terry Collins with a lefty pinch-hitter, occasional platoon partner for Jason Bay, and insurance against an injury to, or disappointing performance from, Bay, Lucas Duda, or Andres Torres.
After Willie Harris signed with Cincinnati, the Mets were left with two unproven players, Mike Baxter and Adam Loewen, as their options for the lefty off the bench.
Most major league managers prefer veterans in that role, because those players are accustomed to the unique challenges of irregular play and pinch-hitting — and because developing players are best served playing every day in Triple-A.
FUKUDOME'S STATS
| | GP | AB | R | H | 2B | 3B | HR | RBI | BB | SO | SB | CS | AVG | OBP | SLG | OPS |
| --- | --- | --- | --- | --- | --- | --- | --- | --- | --- | --- | --- | --- | --- | --- | --- | --- |
| 2011 Regular Season | 146 | 530 | 59 | 139 | 27 | 3 | 8 | 35 | 61 | 110 | 4 | 6 | .262 | .342 | .370 | .712 |
| Career | 572 | 1888 | 262 | 491 | 110 | 13 | 42 | 191 | 299 | 393 | 29 | 28 | .260 | .361 | .399 | .760 |
ANKIEL'S STATS
| | GP | AB | R | H | 2B | 3B | HR | RBI | BB | SO | SB | CS | AVG | OBP | SLG | OPS |
| --- | --- | --- | --- | --- | --- | --- | --- | --- | --- | --- | --- | --- | --- | --- | --- | --- |
| 2011 Regular Season | 122 | 380 | 46 | 91 | 20 | 0 | 9 | 37 | 29 | 96 | 10 | 3 | .239 | .296 | .363 | .659 |
| Career | 540 | 1635 | 232 | 402 | 84 | 7 | 64 | 218 | 142 | 436 | 20 | 8 | .246 | .309 | .423 | .732 |