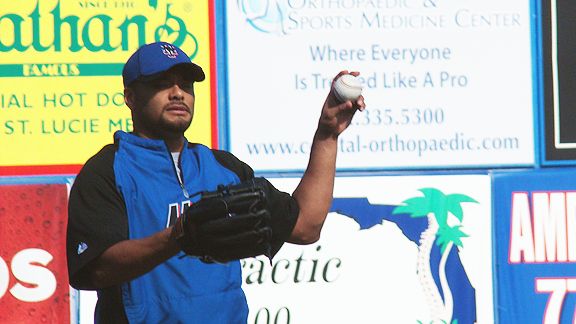 Mets pitcher Johan Santana told
Dan Martin of the NY Post Thursday
he won't have any answers about how much his left arm has recovered from September 2010 shoulder surgery until spring training.
"My arm will let me know how I feel," Santana said on a conference call. "Time will tell. We'll see how it feels. I cannot tell you what's gonna happen 5-6 weeks from now."
Santana spoke after long-tossing in Port St. Lucie, and the lefty said his arm felt good and he expected to be ready for the start of spring training next month. But he has learned after numerous setbacks not to make any predictions.
"I don't want to set any timeframe because we won't know until we get there," Santana said of his potential readiness for Opening Day. "I think this is the first time I've started throwing so early in the year to get ready for spring training."

That won't necessarily translate into him being on the mound by then, although he hopes to be.
"I don't want to take any guess right now,'' said Santana, who will split his throwing sessions between the Mets facility in Port St. Lucie and his home in Fort Myers. "If that's the case, it would be great, but I don't know how I'm gonna feel in two months."
After long tossing 25 times from 90 feet Thursday, Santana said he expects to move to 110 feet Friday and doesn't know how hard he can throw.
"At the end of my rehab last year, I felt good, but I also knew that doctors told me rest was part of my rehab," Santana said of his work in the minors and Instructional League. "I had to shut everything down and now start everything over again. But right at the end of rehab, I felt good. Now, it's just a matter of time and repetition … to see if the velocity is there. I don't know what my velocity is right now. That's why we have to go through spring training until the season starts."
Whenever Santana does return, he knows Jose Reyes won't be behind him at shortstop.
"It's kind of tough to see him go, but it's part of the game," Santana said of Miami-bound Reyes, who signed a six-year, $106 million deal with the Marlins in December."He's a great player and a great … but he had a great opportunity over there and now we'll compete against him. We have to up our game to make sure we beat him."
That won't be easy considering the lack of noteworthy additions the Mets made to their roster this offseason.
"I'm looking forward to the challenge," Santana said. "We've got talent. Our job is putting everything together and try and compete. It's gonna be a learning process for a lot of guys here, but at the same time we're gonna compete and play and have fun. It's gonna be tough out there, but it's not gonna be impossible."
A healthy Santana would help.
"We're trying to approach everything like a normal year to try and get ready for spring training and the season," Santana said.