After David Einhorn backed away from the table after he realized that the Wilpons were trying to renege on their deal to not make him a majority owner if the Mets could not pay him back his investment. The Mets are trying a new approach, $20 Million dollar ownership blocks to friends and family to raise capital. The Mets say that they have 7 investors and the deal(s) can be settled by the end of January. Which will mean the Mets can continue to pay their lawyers off and their unlawful debt.
The perks to having $20 Million to spend on this team are a real joke. It's sought of like having a glorified fan package for the team.
They Include:
- Business card that lists you as "owner" of the Mets.
- Chance to throw out a game's first pitch each season you're a minority owner.
- Exclusive access to take batting practice at Citi Field on a Mets day off. The Times claims each minority investor will have access to an "owners workout day."
- Free parking to Citi Field. Don't get too excited, though: The club will only allow you a single reserved spot to Citi Field.
- One luxury box. That's the good news. The bad news? The team seems to be having issues leasing out the 54 suites at Citi Field, which go for $250,000 to $500,000 a year.
- Mets merchandise discounts. You'd think ownership would mean free T-shirts and jerseys, but you'd be wrong. The offer includes discounts on Mets merchandise, but you'll have to pay for it.
- Special access to Mets executives. You'll get dibs on season tickets for friends and family members. Just don't expect them to be on the house.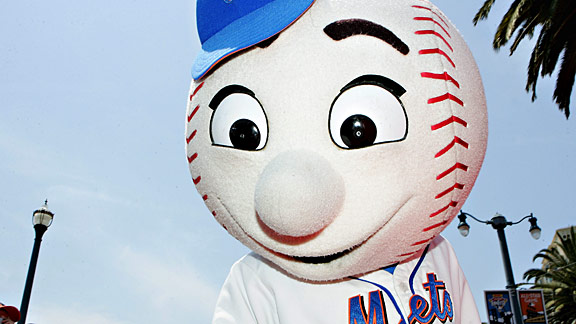 - Mr. Met will be your buddy. As part-owner of the Mets, you can party like a rock star with the most beloved figure in franchise history. Mr. Met will appear at birthday parties, bar mitzvahs, weddings and other social events. However, the Times says it's not clear whether these special mascot escapades will cost you extra.
- One free road trip with the team during the regular season. The Mets get to pick which city.
- Lunch with former players. You'll be breaking bread with a host of former Mets players and current broadcasters. Don't worry, though: During the off-season, you can dine with the manager and GM.
The Mets also claimed investors could get their money back after six years with 3 percent compound annual interest included. So this investment is really a loan.
The Mets had a book value of $225 million, according to Forbes, before the 2011 season.
See what $20 Million can buy you, Get on line now! Merry Christmas!