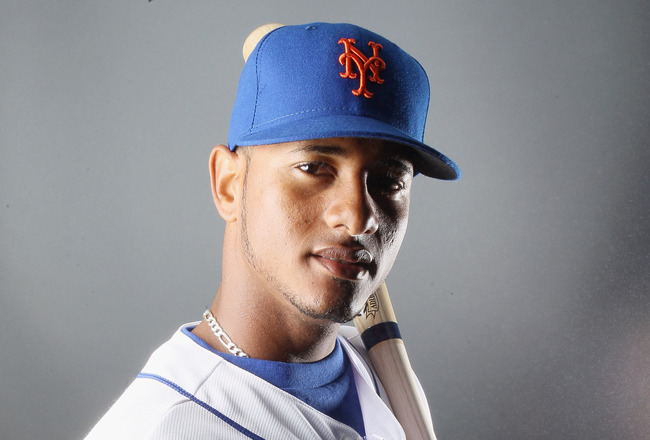 Remember the name Jordany Valdespin, He was on the Mets 40 man roster in 2011 and invited to shared some time with the team last spring. He started his season in Binghamton with Wally Backman and moved his way to the Triple-A level with Tim Teufel , who now is the Mets 3rd base coach..
Valdespin could be the answer the Mets are looking for at second base. The Mets also have Justin Turner and Daniel Murphy, who could get a shot playing there everyday or might get the 3rd baseman job by default, if David Wright is traded this off-season.
There a couple of reasons to like Valdespin.. For One, The kid hits and hits for power. Valdespin big lefty swing had 17 HRs with 32 doubles and 3 triples last year combined between Binghamton and Buffalo... He also hit .294. combined with a .333 OBP. (which should improve over time). Valdespin also has some speed, as he swiped 37 bases (Combined).. His speed can compensate the loss of Jose Reyes, which so far looks like a reality coming to the Mets..
Jordany Valdespin right now is playing for the
Tigres del Licey
in the Dominican Winter League where he only batting .220 in 59 AB's, but has time to improve that since the league ends 12/21/11...
2011 Season
Team
League
AVG
G
AB
R
H
2B
3B
HR
RBI
TB
BB
SO
SB
CS
OBP
SLG
OPS
BIN
EAS
.297
107
404
62
120
24
3
15
51
195
21
68
33
14
.341
.483
.824
BUF
INT
.280
27
107
7
30
8
0
2
9
44
4
25
4
4
.304
.411
.715
Minors
.294
134
511
69
150
32
3
17
60
239
25
93
37
18
.333
.468
.801
2011 Offseason Leagues
Team
League
AVG
G
AB
R
H
2B
3B
HR
RBI
TB
BB
SO
SB
CS
OBP
SLG
OPS
LIC
DWL
.220
19
59
7
13
1
3
0
9
20
5
5
7
1
.281
.339
.620