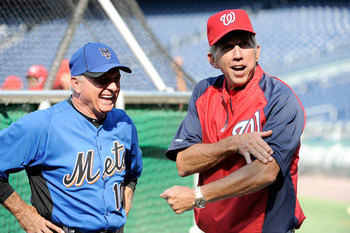 Johnson with Collins
Davey Johnson will be back as manager of the Washington Nationals in 2012.
The Nationals announced Monday that they're picking up Johnson's managerial option.
He took over as Washington's manager in June, after Jim Riggleman abruptly resigned. The Nationals went 40-43 under Johnson and finished 80-81, in third place in the NL East.
Washington general manager Mike Rizzo said Monday "it became obvious that the Nationals would be best served" if the 68-year-old Johnson continued in the role.
The Nationals are the fifth major league club managed by Johnson, who won World Series titles as a player and a skipper. Johnson led the Mets to the 1986 World Series and was the 1997 AL Manager of the Year with the Baltimore Orioles.