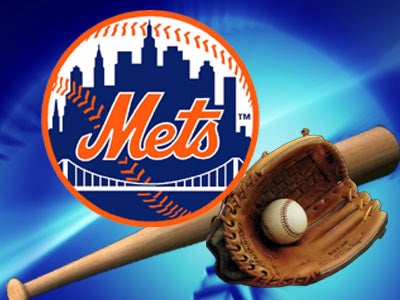 METS AT A GLANCE: The Mets have won seven of their last eight games...New York is 9-12 in its last 21 games and 21-24 since the All-Star break.
ON THE ROAD: New York is 37-33 on the road this season...The 37 road wins are tied for the seventh-most in the majors...New York has won two straight road contests after going 2-8 in its previous 10 road games...The Mets won 32 total road games in 2010.
FIRST INNING: David Wright cranked a three-run home run to leftcenter in the first inning last night...The Mets are tied for fifth in the National League with 78 first inning runs...New York has a .282 batting average in the first inning, the fifth-highest mark in the majors...The Mets are 48-23 this year when scoring first.
HOME RUNS: After not hitting a home run during their six-game homestand, the Mets hit three last night (David Wright, Nick Evans and Lucas Duda)...New York has hit at least one home run in each of their last three road games (six total)...The three home runs were the most since the club slugged three home runs on August 8 vs. San Diego.
DAVID WRIGHT: Hit his first home run at Nationals Park last night...It was his 32nd career game at Nationals Park and Wright had gone 125 at-bats without a home run at the ballpark...It was the only current National League park that Wright had not gone deep ...Wright is batting .500 (13-26) with three doubles, two home runs and nine RBI over his last eight contests.
LUCAS DUDA: Hit his team-leading eighth second-half home run last night...Duda has 13 RBI over his last 12 games...He is batting .333 (46-138) since the All-Star break, ranking sixth in the NL...His .413 on-base percentage since the break is third in the NL and he has 30 RBI during that same span, tied for the 13th-most in the NL.
JOSE REYES: Leads the National League with a .333 batting average...Milwaukee's Ryan Braun is second (.332)...Reyes would be the first batting champion in team history...The Mets shortstop has hit in all five games since returning from the Disabled List on August 29, going 6-22 (.273)...Reyes also leads the majors with 16 triples and is fourth in the National League with 35 stolen bases...He is also tied for eighth with 84 runs scored...Reyes is one triple shy of 100 for his career.
METS STARTERS: Over their last eight games, Mets starters are 6-1 with a 2.65 ERA (15 earned runs/51.0 innings)...They have issued 14 walks and notched 38 strikeouts...During New York's fivegame losing streak from August 19-23, Mets starters went 0-3 with a 9.24 ERA (26 earned runs/25.1 innings).
DILLON GEE: Became the first Mets rookie since Ron Darling (12 wins) and Dwight Gooden (17 wins) in 1984 to win 12 or more games with his victory over the Marlins in his last start on Monday ...Gee is second in the majors among rookies with 12 wins, is first among NL rookies with 133.2 innings and fourth with 91 strikeouts.
R.A. DICKEY: Starting on three days rest last night, R.A. Dickey extended his career-high quality start streak to eight, the longest such streak in team history since Johan Santana closed the 2008 campaign with 14 consecutive quality starts.
OFFENSE: New York ranks second in the NL and seventh in the majors with a .265 batting average...The Mets rank second in the NL and fourth in the majors with a .335 on-base percentage...The Mets are fifth in the majors with 261 doubles, fourth in the majors with 473 base on balls and ninth with a .265 batting average with runners in scoring position...The Mets lead the majors with 1,052 runners left on base.
METS BULLPEN: Tossed 3.0 shutout innings last night and has permitted six runs over their last 20.0 innings (2.70 ERA) dating back to August 24...Josh Stinson made his major league debut tossing 1.2 scoreless innings with two strikeouts and Daniel Herrera made his Mets debut striking out Jonny Gomes to end the game...The bullpen has surrendered at least one run in 30 of its last 38 games, posting a 4.87 ERA (62 earned runs/ 114.2 innings) dating back to July 20...Overall, the pen ranks 28th in the majors with a 4.26 ERA.