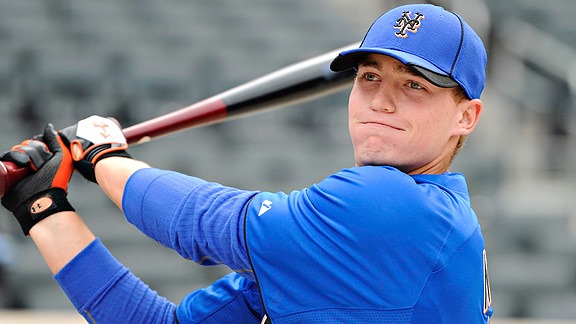 In Brandon Nimmo's words, "a little portion of the dream came true" on Monday afternoon, when the 18-year-old took batting practice in front of a gaggle of scouts and front-office personnel at Citi Field.
The 13th overall selection in June's First-Year Player Draft and the organization's top position-player prospect, the outfielder was on a brief hiatus from the instructional league, where he is extending his first professional season into autumn.
Consider it a reward, of sorts, for being a critical piece of the organization's future.
"Jose Reyes, he said 'hi' to me," Nimmo said of his experience at Citi. "I felt pretty cool about that."
Nimmo, who signed with the Mets minutes prior to Major League Baseball's mid-August deadline, hit .241 with two home runs in seven games in the Class A Gulf Coast League before advancing to Class A Kingsport for another three games to close his season. Overall, he hit .211 while adapting to pro baseball and meeting, perhaps, some of his future teammates.
"I'm at pretty much the lowest level right now," Nimmo said, "and I see players with so much potential, players that are really, really good. I'm keeping up with the MLB team, but I can kind of see the future down where I am. And it's bright."
"I've heard some very, very good things," manager Terry Collins said. "He's real athletic. He wants to play, desperately."
If things turn out Nimmo's way, he may reach the Major Leagues sooner rather than later. But at 18, and still playing in rookie leagues, he understands that he is several years away from making an impact.
"I do understand the process," he said. "These guys are just more mature than I am physically, and they've been through more at-bats. They've had thousands more at-bats than I have, so you have to understand the process that I'm going through. Yes, this is my dream, and I want to get here as soon as possible. But sometimes guys get rushed through too soon, and it's detrimental to their whole career. I want to do this right and be a guy that can do things when I get here."
That does not mean Nimmo cannot accelerate the learning curve. Following instructional league, he plans to travel to the Dominican Republic to play in more competitive games, all in an effort to continue his development throughout the winter.
Nimmo's improvement may be rapid. During the brief batting-practice session on Monday, he displayed some of the raw tools that made him a first-round Draft pick, spraying line drives to all fields from the left side of the plate. Afterward he displayed the personality that could make him an ideal fit in New York: He has a gregariousness and self-awareness not often found in 18-year-old prospects.
Nimmo even cracked a few jokes with the family members who were in attendance, playing off the stereotypes of his rural upbringing in Wyoming, which has no high school baseball programs.
"I've had more experience with [being treated as a curiosity] since being drafted, and since being targeted as this kid from Wyoming who someone saw ice fishing and [signed because of my quick hands]."
Source:
Mets.com