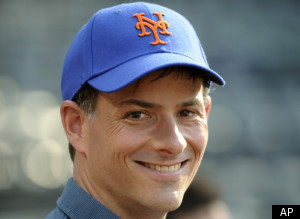 According to the
Daily news
, Potential savior of the New York Mets David Einhorn is out as a minority investor in the team.
According to reports , a source familiar with the negotiations for Einhorn to invest $200 million and gain a 33% stake in the Mets, the owner of Greenlight Capital "overplayed his hand" with owners Fred and Jeff Wilpon and Saul Katz and will not invest in the team.
"After months of negotiation, the parties were unable to reach agreement, and Mets Ownership has decided to explore other options," the team said in a statment.
It is unclear if the Mets' owners will seek another investor. Wilpon and Katz are embroiled in a $1 billion lawsuit filed against them by the trustee for the Bernie Madoff Ponzi scheme case, and have faced cash shortfalls in the wake of the litigation.
According to the statement, they "have provided additional capital to cover all 2011 losses and is moving forward with the necessary resources to continue to operate the franchise. Ownership will explore other strategic transactions and is under no financial pressure to do a deal on any particular schedule."
"We are very confident in the team's plans – both off and on the field," said Mets Chairman and CEO Fred Wilpon. "We will engage with other individuals, some who have been previously vetted by Major League Baseball, along with other interested parties, regarding a potential minority investment into the franchise. My partners and I thank David for his interest in considering this opportunity and wish him well in the future."
Einhorn also issued a statement, saying that he is disappointed to announce that he won't be purchasing an ownership interest in the Mets.
"It is clear that it will not be possible for me to consummate the transaction on the terms that the Sterling-Mets organization and I originally agreed to several months ago," he said. "The extensive nature of changes that were proposed to me at the last minute has made a successful transaction impossible.
"I want to thank the entire Mets organization and Major League Baseball for their efforts. This experience will always be a happy memory for me because of the Mets' fans. A good number of you have reached out to offer me encouragement. I will always be touched by the warmth that you showed me."
Negotiations with Einhorn had begun to stall in the last month after Einhorn reportedly pressed the Wilpons and Katz to clear a path to eventual majority ownership in the team they have owned for three-plus decades.
Part of the agreement the Mets' owners were negotiating with Einhorn involved either a repayment of his $200 million investment within five years or beyond (in that event he would keep a 16% share of the team as "interest" for using his money) or an option for Einhorn to double his stake in the team to 60% or beyond based on a $1 billion-plus valuation of the Mets.
Reports last month that Einhorn could basically double his investment for a "strike price" of one dollar were not accurate, according to three sources familiar with the deal.