The Mets are in the hunt for the perfect solution for Carlos Beltran. Where he ends up? Who Knows, but to the best of my knowledge of all the data I compiled from all the articles I have posted I have come up with this:
The Mets will look to trade Carlos Beltran to a NL Team. Carlos Beltran has stated that he would like to stay in the NL because he has seen most of the pitchers and he does not want to DH.
So with that, the Mets Front Runners for Beltran are Giants, Phillies, Braves (Based on all articles and rumors reports).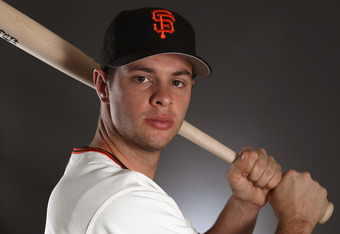 Brandon Belt
The Mets are believed to be looking for Top Prospects in exchange for Carlos Beltran's services. The Mets will also pay the remaining 6 to 7 Million left on Carlos' Contract.
Here are some of the Top Prospects from each of the Giants, Phillies and Braves organizations that the Mets will be looking at to get the deal done:
San Fransisco Giants Top 5 Prospects with Ratings by
John Sickels
1) Brandon Belt, 1B, Grade A-
2) Gary Brown, OF, Grade B
3) Zack Wheeler, RHP, Grade B
4) Francisco Peguero, OF, Grade B-
5) Thomas Neal, OF, Grade B-
Rumors: SI.com's Jon Heyman believes
the Mets are interested in Giants 1B prospect Brandon Belt
, RHP Zach Wheeler or
OF Gary Brown.
_______________________________________________________
Philadelphia Phillies Top 5 Prospects with Ratings by
John Sickels
1)
Domonic Brown
, OF, Grade A
2) Jonathan Singleton, 1B, Grade B+
3) Brody Colvin, RHP, Grade B+
4) Jarred Cosart, RHP, Grade B, Borderline B+
5) Trevor May, RHP, Grade B
Rumors: Mets have been rumored to have interest in
Domonic Brown
_______________________________________________________
Atlanta Braves Top 5 Prospects with Ratings by
John Sickels
1) Julio Teheran, RHP, Grade A
2)
Freddie Freeman
, 1B, Grade A-
4) Randall Delgado, RHP, Grade B+
5) Arodys Vizcaino, RHP, Grade B
Rumors:
NY Baseball Digest's Mike Silva
thinks Mike Minor can be the Mets best Move