Mike Silva of NY Baseball Digest
says there are reports swirling that
Carlos Beltran
is headed to San Francisco.
According to Silva, the main piece in the deal could be San Jose outfielder
Gary Brown
.
Brown is the first round pick of the Giants from 2010. He was the Big West Conference Player of the Year for Cal State Fullerton that year as well.
2010 Draft Scouting Report: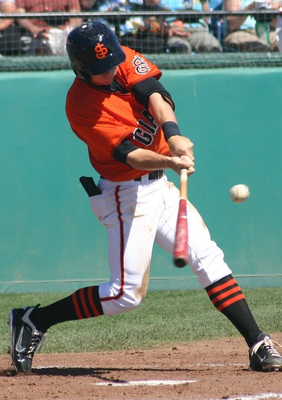 Gary Brown - OF
Cal State Fullerton, Jr.
Birthdate: 8/27/1988
Height: 6'0"
Weight: 185 lbs.
Bats: Right
Throws: Right
Scout's report filed: 3/2/10
Game(s): San Diego
Scouting Report
Hitting ability: Brown consistently gets the barrel on the ball. It's not pretty, his feet are moving, but the bat is always in the right place, particularly against fastballs.
Power:
He doesn't look like he should, but he's got some surprising pop.
Running speed:
He's got plus, plus speed.
Base running
: He wreaks havoc on the basepaths, though he's still raw and needs to learn the nuances of baserunning.
Arm strength:
His arm is not quite average and isn't really a part of his game.
Fielding:
When he first started playing center, he did not look good out there. But he's improved quickly in his routes and reading the ball off the bat.
Range:
With his speed, he's got more than enough range for center.
Physical Description:
Brown is an athletic, though not overly big, speedster. He's got a Reggie Willits body type.
Medical Update:
Healthy.
Strengths:
Plus, plus speed. Better hitting skills than expected.
Weaknesses
: He's still raw in many facets of the game.
Summary: There may not have been another hitter in the 2010 Draft class who got off to a hotter start than Brown. Speed is his best tool, and he can wreak havoc on the basepaths. He's got more strength and power than it would seem, and while his approach is unorthodox, he's got good overall hitting skills. Relatively new to the outfield, he's come a long way in terms of his defensive skills in center. Pure speed guys who can hit don't grow on trees, and if Brown keeps hitting the way he started out the year, he's going to hear his name called sooner rather than later on Draft Day.