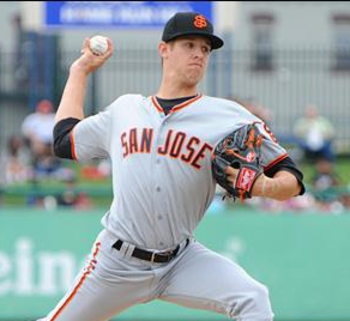 In a article in the
Wall Street Journal
, Paul DePodesta still remembers the first time he saw Zack Wheeler pitch. He remembers the field in northwest Georgia, where Wheeler was pitching for his high school team in 2009. He remembers the scouts, about 30 of them in the stands. And he remembers the highest reading on the radar gun: 99 miles per hour.
"He had an easy, power fastball and a devastating curveball that night," said DePodesta, the Mets' head of player development. "To be honest with you, it was almost unfair at that level."
The same potential DePodesta saw then, on a scouting trip for the San Diego Padres, the Mets' pro scouts saw as they watched Wheeler this season. It's why they coveted him more than any other San Francisco Giants prospect. And it is ultimately why Wheeler became a Met on Thursday after the Carlos Beltran trade became official.
The Mets and Giants discussed a deal that would have sent another prospect, outfielder Gary Brown, to the Mets for Beltran. But Wheeler was always the Mets' target. And when the Giants finally became willing to part with him, the trade accelerated.
"We were looking for big upside," Mets general manager Sandy Alderson said. "We could have gotten a package of three players from a number of clubs, but the overall potential of those players would not have equaled Zack's potential."