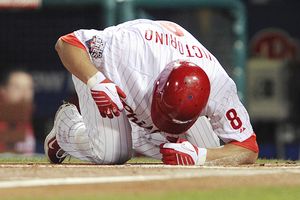 Shane Victorino may have won MLB's "Final Vote" for the All-Star Game, but the Phillies center fielder won't be playing in Phoenix next week.
The Phillies placed him on the 15-day disabled list Friday and called up infielder Pete Orr from Triple-A Lehigh Valley.
Victorino sprained a ligament in his right thumb and hasn't played since Sunday, so the move is retroactive to July 4.
Although Victorino won the fan's final vote, manager Bruce Bochy will have the autonomy to replace Victorino.
Although Andrew McCutchen of the Pirates deserves it, Andre Ethier of the Dodgers will be a contender, as well. Ethier was on the "Final Vote" ballot, which the manager has a significant say in selecting.
Victorino is hitting .303/.376/.524 with nine home runs this season.