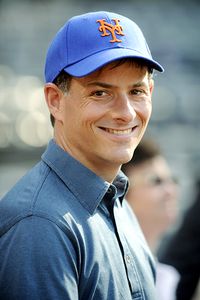 Major League Baseball commissioner Bud Selig said Tuesday that he will approve the partial sale of the Mets to hedge-funder David Einhorn once the deal is finalized.
The sale of a $200 million minority stake in the club has taken longer than expected to complete. Einhorn initially said he expected to close the deal by the end of June, and neither side has offered an updated timetable. But once the terms are agreed on, Selig said he won't hold up the deal.
"What the [heck], he played baseball in my backyard. How can I turn him down?" Selig said at a luncheon with baseball writers before the All-Star Game. While growing up in a Milwaukee suburb, Einhorn said he used to play baseball in the backyard of Selig's neighbor.
"Yeah, he's cleared," Selig said. "Now, they have to finish the deal. And by the way, I think they're making very good progress."
A person familiar with the matter said in May that the deal will include a path to majority ownership, though not for several years. Another person familiar with the agreement said if the team's owners retain control of the club, Einhorn would get the $200 million back while retaining a minority stake in the club.
But Selig said he did not view the deal as a loan. "It isn't a loan in the true sense of it," he said. "He is putting equity in the club. That's what he's doing.…I'm not concerned. The deal is very good for the Mets."
The Mets reiterated an earlier statement Tuesday saying their owners were "engaged in exclusive, positive discussions" with Einhorn and declined further comment.
The infusion of cash from Einhorn is an essential lifeline for the Mets. Principal owner Fred Wilpon said in May the team is "bleeding cash" and could lose up to $70 million this year.
Wilpon and his business partner, Saul Katz, also face a $1 billion lawsuit from Irving Picard, the trustee representing victims of the Bernard Madoff fraud.
But Selig the Mets have had "some movement in the right direction" in the lawsuit, which was moved from bankruptcy court to federal court earlier this month. The Wilpons view the change in venue as favorable to them. And Selig expressed confidence in the Mets' financial future.
"Once this deal is done, I think the Mets, at least for the foreseeable future, will be fine," he said.