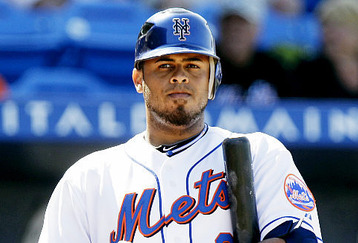 According to Adam Rubin of ESPN, The New York Mets activated catcher Ronny Paulino from the disabled list and demoted Mike Nickeas to Triple-A Buffalo.
Paulino signed a $1.3 million free-agent contract in early December to serve as a right-hitting complement to Josh Thole behind the plate.
He had difficulty securing a visa because of a 50-game MLB suspension for a performance-enhancing substance and arrived late to spring training.
Team doctors discovered Paulino had issues with anemia, so Paulino was placed on the disabled list after the remaining eight games of his suspension were completed while his blood levels returned to more normal levels.
He was eligible to be activated from the DL on Tuesday, but tweaked a side muscle last weekend with Triple-A Buffalo, further stalling his return.
Paulino hit .190 (8-for-42) with four RBIs and a walk in 12 rehab games between Class A St. Lucie and Buffalo.
Manager Terry Collins indicated he plans to platoon the left-hitting Thole and Paulino, with the exception of Thole catching knuckleballer R.A. Dickey regardless of the opposing pitcher.
Nickeas hit .250 with 20 at-bats and belted his first major league homer on April 21, off Houston's J.A. Happ.