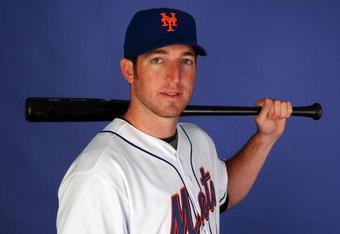 Final Score: Florida 6, NY Mets 5
Mike Stanton and Logan Morrison both drove in two runs, as the Florida Marlins edged the New York Mets, 6-5, in Grapefruit League action.
Hanley Ramirez doubled twice and scored two runs for Florida, while starter Anibal Sanchez scattered three hits over 5 1/3 scoreless innings.
Ike Davis belted a solo home run and Kirk Nieuwenhuis stroked a two-run double for New York. D.J. Carrasco gave up four runs -- three earned -- on six hits over four full frames.
Boxscore: Click Read More
NY METS (5) AT FLORIDA (6)

NY METS          AB  R  H BI  FLORIDA          AB  R  H BI  
W Harris cf       3  0  0  0  D Wise cf-rf      4  1  1  0
J Feliciano cf    1  0  1  1  O Infante 2b      3  1  1  0
C Hu 3b           5  0  1  0  E Bonifacio 2b-3b 1  0  0  0
D Murphy 2b       4  0  1  0  H Ramirez ss      4  2  2  0
P Beato p         0  0  0  0  O Martinez ss     0  0  0  0
J Glenn ph        1  0  0  0  M Stanton rf      2  1  1  2
I Davis 1b        3  1  1  1  J Buente p        0  0  0  0
R Adams 1b        2  1  0  0  D Jennings p      0  0  0  0
N Evans lf        3  0  1  0  M Cervenak ph     1  0  0  0
B Maldonado lf    2  1  1  0  R Webb p          0  0  0  0
L Duda rf         2  0  1  0  C Hensley p       0  0  0  0
K Nieuwenhuis rf  1  1  1  2  G Sanchez 1b      2  1  1  1
J Thole c         2  0  0  0  D Murphy 2b       1  0  0  0
J Centeno c       1  0  0  0  L Morrison lf     3  0  2  2
L Hernandez ss    4  0  0  1  S Cousins lf      1  0  0  0
D Carrasco p      1  0  0  0  G Dobbs 3b        2  0  1  0
A Rodriguez ph    1  0  1  0  W Helms ph-3b-1b  1  0  0  0
P Misch p         0  0  0  0  B Hayes c         3  0  0  0
M Bouchard ph-2b  2  1  1  0  B Davis c         1  0  0  0
                              A Sanchez p       2  0  0  0
                              C Coghlan cf      0  0  0  0
TOTALS           38  5 10  5  TOTALS           31  6  9  5

NY METS                    000 001 040   --   5
FLORIDA                    301 020 00x   --   6

E--D Carrasco, W Helms 2. DP--FLORIDA 1. LOB--NY METS 9,
FLORIDA 5. 2B--C Hu, D Murphy, M Bouchard, K Nieuwenhuis, G
Dobbs, H Ramirez 2, G Sanchez, M Stanton. 3B--L Morrison.
HR--I Davis 1 (3). CS--J Feliciano. SF--M Stanton.

                                  IP   H   R  ER  BB  SO  HR
NY METS                       
D Carrasco (L,1-2)                 4   6   4   3   0   4   0
P Misch                            2   3   2   2   2   0   0
P Beato                            2   0   0   0   1   1   0

FLORIDA                       
A Sanchez (W,3-0)              5 1-3   3   0   0   2   4   0
J Buente                         2-3   3   1   1   0   0   1
D Jennings                         1   0   0   0   1   1   0
R Webb                             1   4   4   1   0   0   0
C Hensley (S,4)                    1   0   0   0   0   2   0

WP--D Carrasco. SO--NYM: C Hu, L Hernandez, B Maldonado, J
Glenn, M Bouchard, I Davis, J Thole. FLA: B Hayes 2, M
Stanton, D Murphy, A Sanchez. BB--NYM: W Harris, L Duda, J
Thole. FLA: W Helms, C Coghlan, G Sanchez. T--2:32 A--4,940