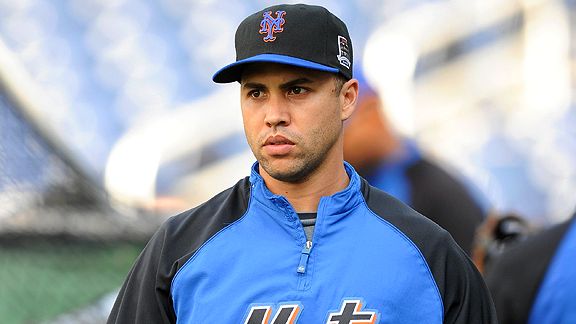 The Mets will get their first look at
Carlos Beltran
in a game this spring training when he plays against the Red Sox today in Port St. Lucie.
Perhaps more importantly, so will other teams that might want to trade for the outfielder trying to come back from knee woes.
Beltran is scheduled to DH today, and manager
Terry Collins
hopes to get him two or three at-bats before removing him.
"I just want him to start seeing live pitching," Collins said yesterday.
And since Beltran likely is still about 10 days away from playing right field, the Mets want him to take things slow.
"Don't look for him to steal," Collins said. "We just want him to get out there and run the bases if he can. As I told him when we decided to do this, don't be embarrassed if you're not ready to run full-speed yet. ... He's gotta get at-bats, that's most important."
The manager didn't rule out Beltran playing back-to-back games.
"He'll dictate the games," Collins said. "I hope he'll want to DH the next day."