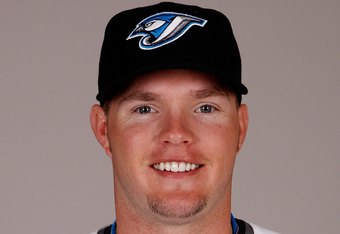 Emaus is one of four second basemen being looked at by Mets first-year manager Terry Collins for this year's starting job after being taken in the Major League Rule 5 Draft last December.
"It's exciting," Emaus told
ESPN.com
after being selected by the Mets. "I was happy the Mets are giving me an opportunity to come over here and possibly showcase what I can do in spring training."
By plucking him from the Toronto Blue Jays organization, following two years in Toronto's minor-league system, Emaus was brought to New York with the intention of making the club.
He is currently among a mix of Mets second base candidates with Luis Castillo, coming off an injury-plagued season, as well as Daniel Murphy and Justin Turner.
With the position changes from more of a defensive sparkplug in the past to a current reputation for power-producers like Atlanta's Dan Uggla and Philadelphia's Chase Utley, the Mets are hoping to keep pace with the rest of the National League East this year.
"Second base has become to me an enormous offensive position," Collins told the Associated Press Wednesday. "Why? I'm not really sure except some of the guys that have been playing there recently have put up huge numbers at second. ... It's become an offensive position, so to me that's a big piece of the puzzle."
Collins said Castillo will start Saturday while Murphy will make the trip to Orlando and start the split squad game against the Braves on Sunday. Emaus and Turner will get starts early next week, Collins said.
He spent this winter playing in the Dominican leagues, primarily playing third base, and was in Mets camp early this spring. In his final 87 games at Triple-A Dunedin last year, Emaus hit .298 with 10 homers and 49 RBIs, having spent a large part of spring training with the Blue Jays before being sent down. His .395 on-base percentage and minor league career numbers of 212 walks to 220 strikeouts, enhanced his reputation for discipline at the plate.
"He fits into the whole scheme of the offensive players that the organization is looking for," Collins said of Emaus. "We got him because of our second base position, as a guy who can play second, but knows he can play third. And he's an offensive threat. The reports were outstanding on him, so we're going to give him a shot and see how he does."
Emaus, who signed a scholarship with Tulane in high school, was originally drafted by the Braves in the 18th round of the 2004 draft but opted to play four seasons with the Green Wave. Re-entering the draft in 2007, Emaus was plucked in the 11th round by Toronto, before spending four seasons in the minors, the last two between its Double-A and Triple-A clubs.
Terry Collins was asked if Emaus can be compared to have the power of Utley or Uggla:
"When they talked about [Emaus], they did not talk about that kind of power," Collins said, contrasting him with Uggla. "But they did talk about the fact he works the count, takes pitches, can hit the ball out of the ballpark, can drive in runs."
We will see soon if the New York Mets have a diamond in the rough..Or just a lot of hot air.
I hope Murphy and Emaus make the club and Castillo hits the road.. Go Mets!