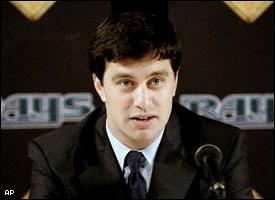 Andrew Friedman
According to
C. Trent Rosecrans of CBS Sports
,
Rays
general manager Andrew Friedman said on a conference call Friday that he has no intentions of trading one of his six starters -- Garza,
David Price
, James Shield,
Wade Davis
,
Jeff Niemann
and
Jeremy Hellickson
.
"I've said before it's not a situation we look at like having two first basemen," Friedman said,
via the Tampa Tribune 's Roger Mooney
. "We were very fortunate last year until August that all of our guys took the ball every five days. It doesn't always happen that way. Depth on the starting pitching front is more valuable than anywhere else. At this time our focus is on making deals that fit in our short-term and long-term objectives, and without pinning it to any one area, we're always going to be open-minded to something that fits that criteria. But as far as our motivation? No, that remains the same."
The Rays could be telling the truth and stick to the old saying, you could never have enough pitching or the Rays could be posturing while still looking to make a deal, so they can demand more. We will see...