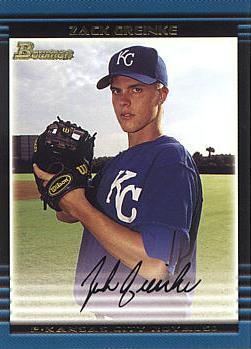 According to
Jim Breen of Bernie's Crew ( A Brewers Blog)
, A Source within the organization earlier today insists that the Milwaukee Brewers have come to a preliminary agreement with the Kansas City Royals for a deal that would send pitcher Zack Greinke to Milwaukee.
The rumored agreement would send shortstop Alcides Escobar, center fielder Lorenzo Cain, and right-hander Jeremy Jeffress to Kansas City in return for Greinke, shortstop Yuniesky Betancourt and approximately $2M.
The extra $2M is to offset a portion of the $31M that would come to Milwaukee in the trade. Coincidentally, Betancourt's buyout for the 2012 season is $2M -- so that number could make a good deal of sense, if the Brewers have no intention of keeping the shortstop.
Breen had been told that the Milwaukee Brewers were originally informed that they had "no chance" of landing Greinke during the Winter Meetings, but that could have changed significantly once Greinke went public with his demands to leave the Royals.
The deal is expected to be announced on Monday.
Yesterday I reported that
Greinke wanted out
!